Change:
Tires-Front: Mizzle 90/80-17
Tires-Rear: 110/80-17 Tire Deli
-Velg: tread width Rochell Racing
Front-fender: Kaze zx 130
Rear-fender: Mio
-Spy: Honda Supra X 125
Jok-: re-design by Afas Jok
Rear-Shockbreaker: Kanzen Taurus
Standard side-Modify and change the middle and high shock big tires
Bracket-box: GIVI (* optional)
Chain-and Gir Set: TK combinations 14-37
-Fuel: PERTAMAX - PERTAMAX Plus
-Oli: Repsol Moto 15W-50
Modifications motor not know the type. Honda Karisma which seemed to form the original 'plain' can also be dimodif model of vicious streetfighter. As Budi Udin Fakkar of Jatayu Motor Sport (JMS) on this one. He named his work of Shiva (read: Siwa). He mengartikannya god of creation.
Here, the characteristics ditonjolkan Budi streetfighter duck through the strength of the bones knit. Especially in the backbone of the pipe Ducati Monster Tubular style, combined with the swing arm (swing arm) from a single Veltermoto (Italy). For foot-feet, "have a full set Velg NSR 150 SP. Senada order, comfort peranti alias also use NSR shock," said builder who is fond fitness.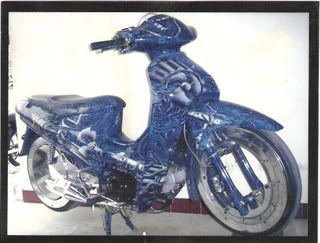 Budi garapan sensation not only that. Lyrics racikan bodywork of this motor. Start from the stern, taken from the model Yamaha R6 in accordance with the dimensions of Karisma. Including the back, also from the R6.
Poser still conspicuous element in the custom motorcycle, especially in designing tank under the seat, which is constrained, such as hole monitors aquarium. Budi said, is to view the content of tank dirty or not.
Most unique, adopted feet back from the trail Kawasaki KX200 or KX125. Then, there is a speed indicator, temperature, time, stopwatch and a digital model of the motor Italy, Aprilia.
Indeed, if one does not Budi Shiva call to the hands terampilnya this. Fredy Wongkar, as owner of Honda Karisma, not wrongly impose selection on JMS to reorganize at the inheritance of his parents.